IoT, IIoT & Industry 4.0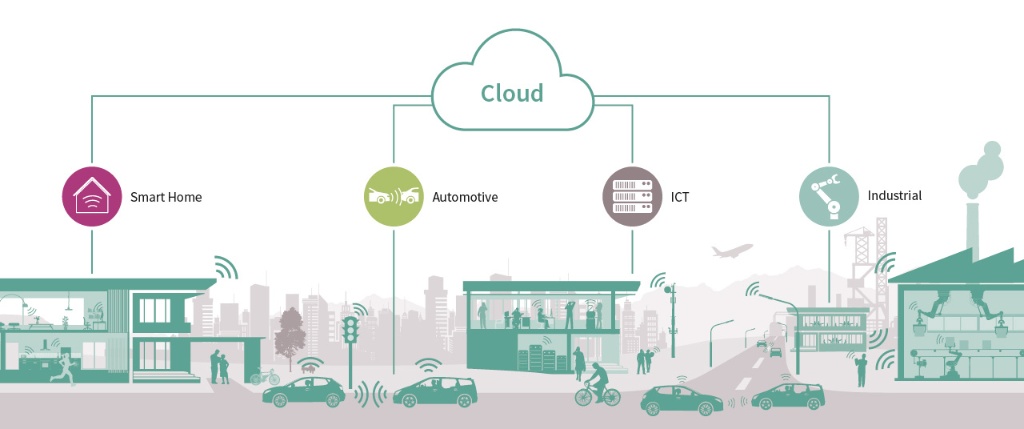 The first internet appliance, for example, was a Coke machine at Carnegie Mellon University in the early 1980s. Using the web, programmers could check the status of the machine and determine whether there would be a cold drink awaiting them, should they decide to make the trip to the machine.
IoT evolved from machine-to-machine (M2M) communication, i.e., machines connecting to each other via a network without human interaction. M2M refers to connecting a device to the cloud, managing it and collecting data.
Taking M2M to the next level, IoT is a sensor network of billions of smart devices that connect people, systems and other applications to collect and share data. As its foundation, M2M offers the connectivity that enables IoT.
The internet of things is also a natural extension of SCADA (supervisory control and data acquisition), a category of software application program for process control, the gathering of data in real time from remote locations to control equipment and conditions. SCADA systems include hardware and software components. The hardware gathers and feeds data into a computer that has SCADA software installed, where it is then processed and presented it in a timely manner. The evolution of SCADA is such that late-generation SCADA systems developed into first-generation IoT systems.
How IoT works
An IoT ecosystem consists of web-enabled smart devices that use embedded processors, sensors and communication hardware to collect, send and act on data they acquire from their environments. IoT devices share the sensor data they collect by connecting to an IoT gateway or other edge device where data is either sent to the cloud to be analyzed or analyzed locally. Sometimes, these devices communicate with other related devices and act on the information they get from one another. The devices do most of the work without human intervention, although people can interact with the devices -- for instance, to set them up, give them instructions or access the data.
The connectivity, networking and communication protocols used with these web-enabled devices largely depend on the specific IoT applications deployed.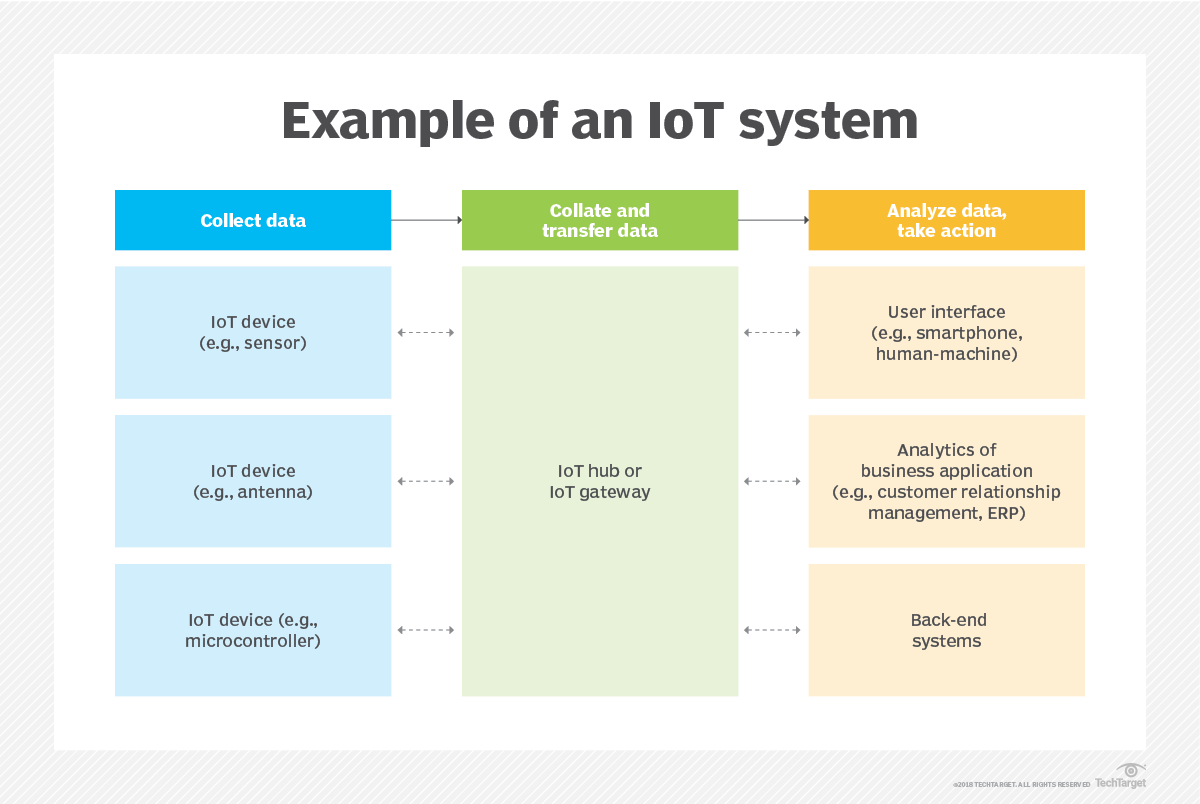 Source: https://internetofthingsagenda.techtarget.com/definition/Internet-of-Things-IoT
Benefits of IoT
The internet of things offers a number of benefits to organizations, enabling them to:
monitor their overall business processes;
improve the customer experience;
save time and money;
enhance employee productivity;
integrate and adapt business models;
make better business decisions; and
generate more revenue.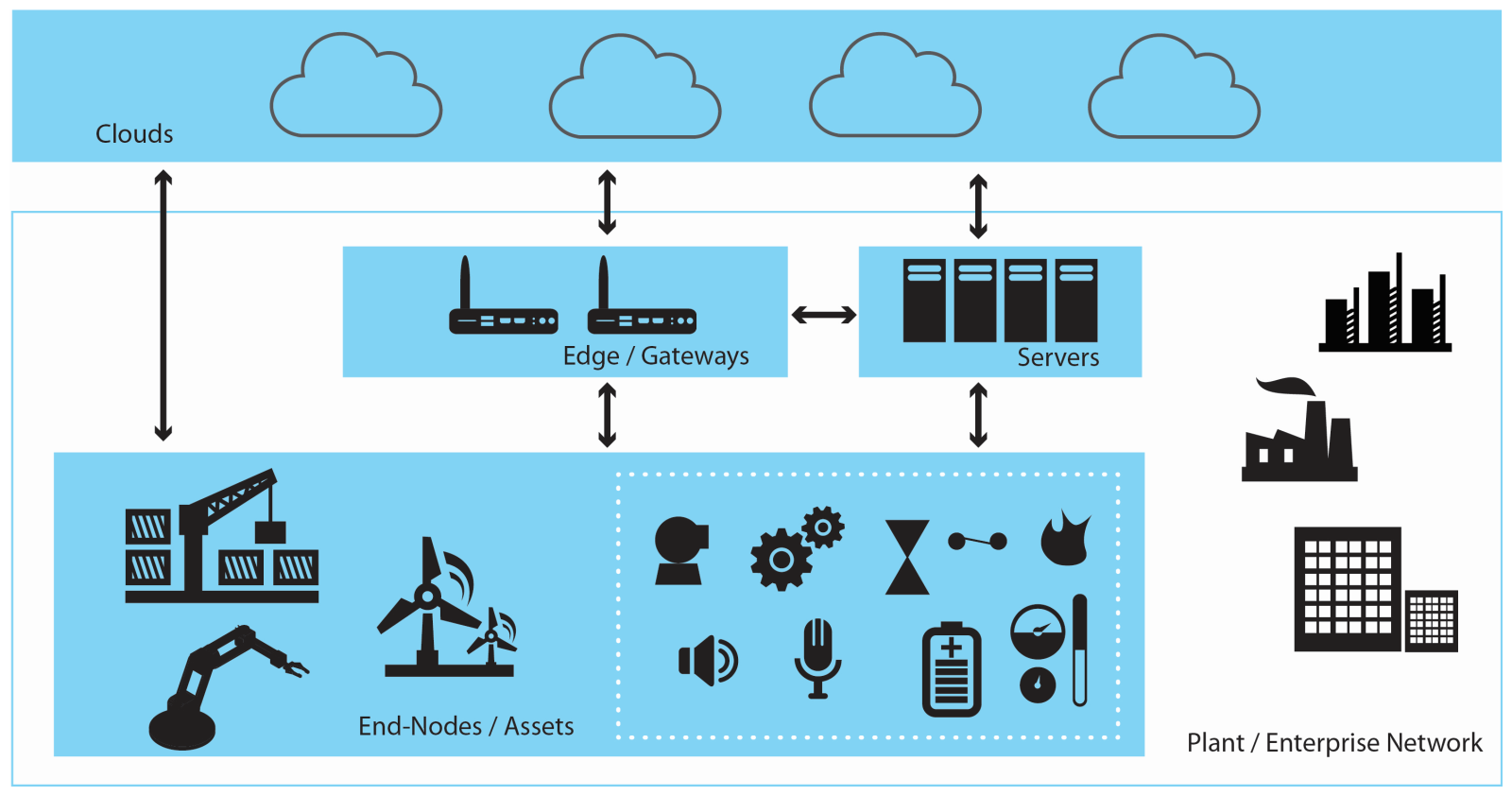 The BEST definition in a PIC

Now Think what can be possible solutions and implementations??????
Means:
The industrial internet of things, or IIoT, is the use of internet of things technologies to enhance manufacturing and industrial processes.
Driving Philosophy:
The driving philosophy behind IIoT is that
smart machines
are better than humans at accurately and consistently capturing and communicating real-time data. This data enables companies to pick up on inefficiencies and problems sooner, saving time and money and supporting business intelligence (BI) efforts.
What it Does?
In manufacturing specifically, IIoT holds great potential for quality control, sustainable and green practices, supply chain traceability and overall supply chain efficiency.
In an industrial setting, IIoT is key to processes such as predictive maintenance (PdM), enhanced field service, energy management and asset tracking.
How IIoT works:
IIoT is a network of devices connected via communications technologies to form systems that monitor, collect, exchange and analyze data, delivering valuable insights that enable industrial companies to make smarter business decisions faster.
An IIoT system consists of:
intelligent assets i.e., applications, controllers, sensors and security components -- that can sense, communicate and store information about themselves;
data communications infrastructure, e.g., the cloud;
analytics and applications that generate business information from raw data; and
people.
Edge devices and intelligent assets transmit information directly to the data communications infrastructure, where it is converted into actionable information on how a certain piece of machinery is operating, for instance. This information can then be used for predictive maintenance, as well as to optimize business processes.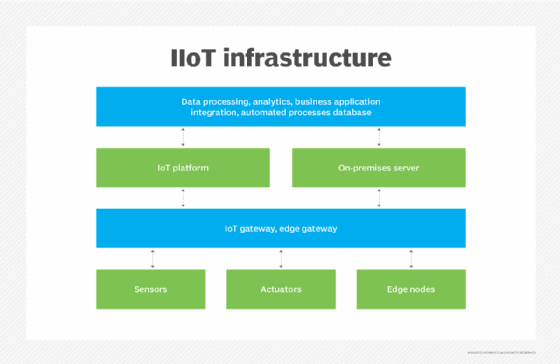 Industrial Business Benefits:
One of the top touted benefits the industrial internet of things affords businesses is predictive maintenance. This involves organizations using real-time data generated from IIoT systems to predict defects in machinery, for example, before they occur, enabling companies to take action to address those issues before a part fails or a machine goes down.
Improving Field Service:
Another common benefit is improved field service. IIoT technologies help field service technicians identify potential issues in customer equipment before they become major issues, enabling techs to fix the problems before they inconvenience customers.
Tracking Assets:
Asset tracking is another IIoT perk. Suppliers, manufacturers and customers can use asset management systems to track the location, status and condition of products throughout the supply chain. The system will send instant alerts to stakeholders if the goods are damaged or at risk of being damaged, giving them the chance to take immediate or preventive action to remedy the situation.
Customer Satisfaction:
IIoT permits enhanced customer satisfaction. When products are connected to the internet of things, the manufacturer can capture and analyze data about how customers use their products, enabling manufacturers and product designers to tailor future IoT devices and build more customer-centric product roadmaps.
Improves Facility Management:
This technology also improves facility management. As manufacturing equipment is susceptible to wear and tear, as well as certain conditions within a factory, sensors can monitor vibrations, temperature and other factors that might lead to operating conditions that are less than optimal.
Applications in one PIC :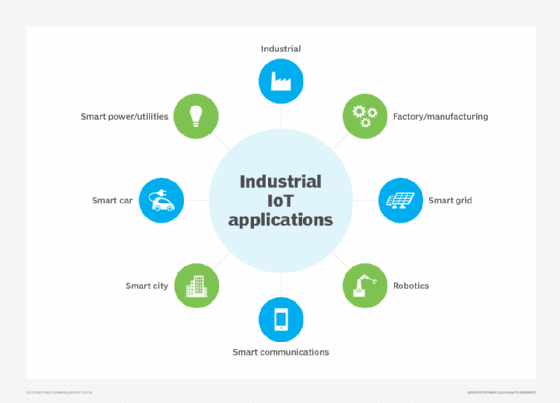 Vendors in IIoT:
ABB
IoT System by Cisco
Field by Fanuc
Predix by GE Digital
Connected Performance Services by Honeywell
Connyun by Kuka,
Wonderware by Schneider Electric
MindSphere by Siemens
INDUSTRY 4.0
Definition of I 4.0 in one PIC:
I
ndustry 4.0 is a term often used to refer to the developmental process in the management of manufacturing and chain production. The term also refers to the fourth industrial revolution.
The term Industry 4.0 was first publicly introduced in 2011 as "Industrie 4.0" by a group of representatives from different fields (such as business, politics, and academia) under an initiative to enhance the German competitiveness in the manufacturing industry. The German federal government adopted the idea in its High-Tech Strategy for 2020. Subsequently, a Working Group was formed to further advise on the implementation of Industry 4.0.
In 2003, they developed and published their first set of recommendations. Their vision entailed that
"these Cyber-Physical Systems comprise smart machines, storage systems and production facilities capable of autonomously exchanging information, triggering actions and controlling each other independently. This facilitates fundamental improvements to the industrial processes involved in manufacturing, engineering, material usage and supply chain and life cycle management."
THE HISTORY BEHIND INDUSTRY 4.0
To be able to understand how Industry 4.0 became today's buzzword, a look at its predecessors might give us a perspective on how this revolution in particular is different. The following diagram shows a timeline of the evolution of manufacturing and the industrial sector in general (Source: Deloitte).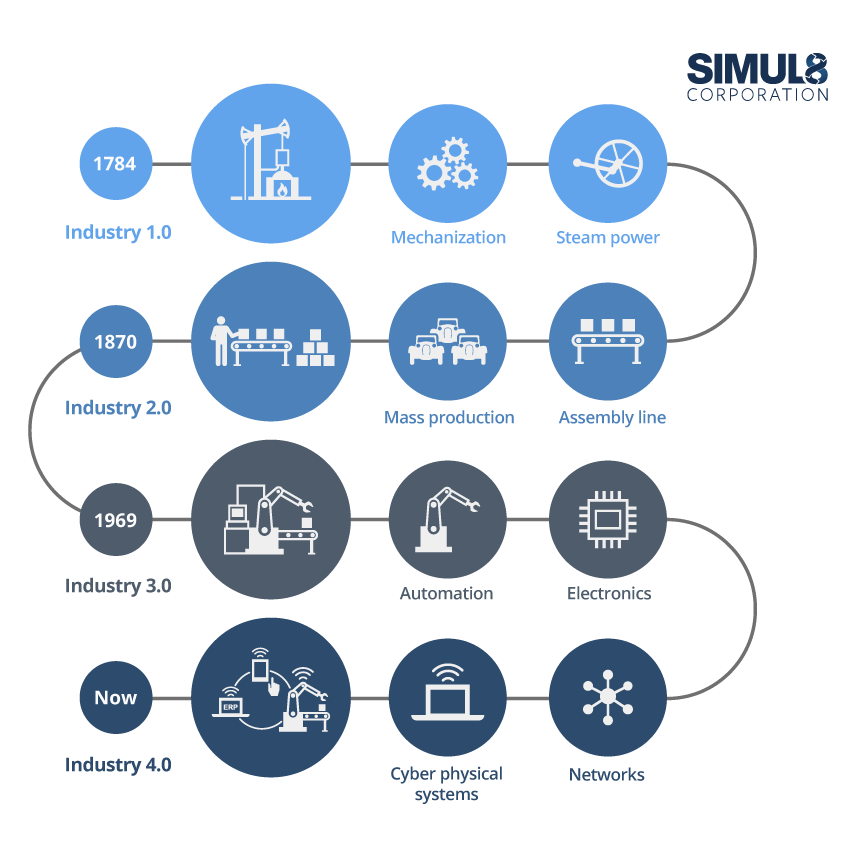 IoT vs IIoT vs I 4.0

Source: https://www.cleverism.com/industry-4-0/ | www.google.com / images |